News
The Junior National Championship sponosred by CSL Behring
The JNC is a national tour for kids affected with a bleeding disorders and their families. The tour consists of a junior golf championship and a baseball skills competition. The goal of the program is to introduce and teach kids about sports and physical activity. It is a great program that is in its ninth year. Everyone who participates in this program is a winner. The program is sponsored by CSL Behring. The athletes involved are professional golfer Perry Parker, and former professional baseball players Corey Parker and Jesse Schraeder and collegiate baseball player Ivan Sada. All of the atheletes have hemophilia. We look forward to working with your kids and having a great time. Please check the website for the schedule and times for the JNC Tour in 2010. We will see you at the course!
Helping children and adolescents with bleeding disorders understand that physical activity can be fun and a part of their lives was recently illustrated during a series of regional golf and baseball competitions held throughout the country. These events culminate each year with the Junior National Championship in Golf and Baseball.
Nearly 500 children annually compete for top honors in the four regional championships. One child in both baseball and golf will be crowned Junior National Champion at the NHF annual meeting in October every year. The JNC is open to all children with bleeding disorders between the ages of 7 and 18, the program allows kids to get physically active and to participate in friendly competition. During the morning of each regional event, the participants attended a clinic, where they learn how to safely exercise, get to know other kids with bleeding disorders and meet the athletes who have hemophilia. Corey Parker and Perry Parker, a former baseball player with the Detroit Tigers Minor League and a Professional Golfer who has won 25 professional championships, respectively started this event nine years ago with CSl Behring. The Parker brothers, who both have mild hemophilia A (factor VIII deficiency) wanted to teach kids how to play their sports and how to compete and show good sportsmanship to their fellow competitors. Jesse Schraeder from Ohio and Ivan Sada from Florida have since taken over for Corey in the baseball competition. Ivan is a former winner of the JNC and has followed in Corey's foot prints to inspire kids with bleeding disorders
Giving back to the community has been a longtime effort for both of the Parkers, and Perry says that sharing his own experiences has been rewarding. "I grew up thinking that I was the only kid with hemophilia. This very emotional event alows us to bring kids together to discuss issues and root for one another," said Perry. "Seeing the camaraderie was rewarding." Perry and the rest of the atheltes hope to see you at the next JNC competion in your area.
 
Chasing A Dream: How Perry Parker and others survived the rigors of PGA Tour Q School.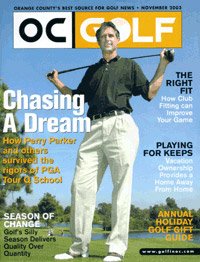 A teaching pro at the Saddleback Driving Range and an exempt player on the Canadian Tour, Parker has played in 14 Q Schools, advancing to the finals five times. His best finish was in 1993, when he finished 58th.
"I have two good stories, but they're not personally great," Parker said. "In 1996, I was playing in Napa. It was in the last round of the second stage and I was in the top 10. I came to the 15th hole, a par-3, downhill with water on the left. I could have played the last two holes 2-over and made it. But I hit it right and it landed in some murky, mud stuff. I decided to play it, but bladed it out across the green to the right. I went down into these reeds, hit it back out onto the green and two-putted for a triple bogey. That put me on the bubble. I came back to birdie the 16th and 17th and hit a good drive on the 18th. I hit a wedge right to the green but it flew over.I hit a chip to within 8 feet, but missed it. I missed advancing to the finals by one stroke.
"In 2001, I was in the second stage at Black Horse Golf Course at Fort Ord. I'd played pretty solid, and a 68 in the third round got me to 1-under. I went into the last round thinking if I shot a 72 I'd make it. But I wound up missing by one shot. And it came down to the fact that in an earlier round, my ball landed in some pine needles. While walking up to hit my ball, the leaves moved the ball and I got charged a two-shot penalty. If that doesn't happen, I'm in the final stage. But that's the kind of stuff that happens in Q School."
And conditions have gotten tougher in recent years.
"My first year was 1988 and my last year was 2001. Q School has changed a lot. It used to be that in the first stage if you finished 10- or 12-over, you'd get in," Parker said. "Now it's even par or nothing. There are also more stages and less spots. The quality of the play has changed a tremendous amount. It used to be you had some top players and some guys who were borderline and some guy who'd never have a chance. But now, with entry fees so high, and with so many young kids who've dedicated their lives to the game, it's pretty much that everybody out there can play."